COVID-19 Updates
It is our goal to keep you updated about the COVID-19 coronavirus. Please visit here often for updated information.
Re-Opening Plan
The Hope Elementary School District in collaboration with the Tulare County Health and Human Services Agency and the Tulare County Office of Education are fully committed to working together to prepare for the reopening of our school.
As COVID-19 continues to change our world, we have been working together to obtain resources, share best practices, and advocate for regulatory flexibility in how we deliver the best instruction possible amidst this global pandemic.
There is no one-size-fits-all approach to reopening schools in our county, and across the state of California. Based on available information as of July 1, 2020, the Hope Elementary School District will create contingency plans for reopening school based on the guiding principles, current planning considerations based on parent feedback, and assumptions set forth in the document below. The plans are subject to change as public health guidelines are updated.
Special thanks to Hope Staff, parents, our board members, and the community for helping us develop these guidelines to best serve students moving forward.
Sincerely,
Melanie Matta
Melanie Matta
Superintendent/Principal
COVID-19 Pandemic Plan
During this time of school closures, maintaining the link between school and home is crucial to ensure that students are continuing to learn and thrive. We miss our students very much, and we look forward to continuing to communicate with them through daily interactive instruction. We recognize that online safety is of huge importance, and we hope that this document helps to protect both school staff and students, while online.
The development of our distance learning plan comes through collaboration with you, our families. We appreciate that you respond to our phone calls and surveys so that we can gain as much information as possible to make the best decisions for our school community.
For more information, you can read the COVID-19 pandemic plan handbook.
New Lunch Schedule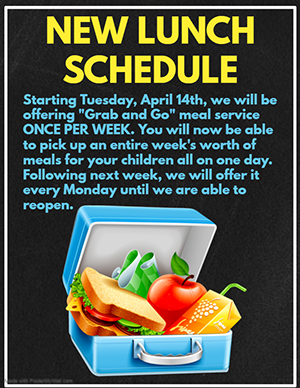 Starting Tuesday, April 14, we will be offering Grab and Go meal service once per week. You will now be able to pick up an entire week's worth of meals for your children all on one day. Starting April 20, we will offer it every Monday until we are able to reopen.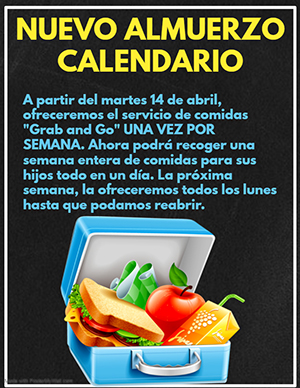 A partir del martes 14 de Abril, ofreceremos el servicio de comidas Grand and Go una vez por semana. Ahora podrá recoger una semana entera de comidas para sus hijos todo en un día. La próxima semana, la ofrecermos todos los lunes hasta que podamos reabrir.
March 31, 2020 - COVID-19 Update
Dear Hope Families,
Due to the COVID-19 pandemic, it has been decided that Hope Elementary will remain closed until further notice. When we closed the district on Monday, March 16, we originally looked at opening the school district back up on Tuesday, April 14. However, due to the ongoing Shelter-in-Place Executive Order, we must delay our reopening date. We understand this decision will have a significant impact on our school community, but we must do our part in continuing to reduce the spread of the virus.
For more information, please read our March 31, 2020, updates.
Coronavirus Disease 2019 (COVID-19)
Tulare County Public Health Department has announced the first positive case of the coronavirus (COVID-19) here in Porterville.
At this time, we are being advised that the risk to students and staff remains low. We will continue to update you as we receive updates from local, county, and staff officials, including the California Department of Public Health in consultation with the California Department of Education and the Tulare County Office of Education.
Currently, we are reviewing all field trips and other extracurricular activities. At this time, we have been notified that our 6th grade SCICON will be rescheduled for April 20–24. We have also been notified that the TCOE Poetry and Prose event is canceled. In addition, we have removed our students from the Ducor track meet.
Please take a moment to read our letters below for more information.